Scheme Details
Beti Bachao, Beti Padhao" Programme has been implemented through campaign with the objective of improvement in sex ratio through societal change.The programme was launched on 22nd January, 2015 by Hon'ble Prime Minister of India. It has been implemented in all districts of Haryana except Mewat.As a result of cummulative efforts of community, social and non-government organization , the sex ratio in haryana crossed 900 mark for the first time.
Objectives
To prevent gender biased sex selective elimination
To ensure survival and Protection of the girl child
To ensure education and empowerment of girl child
Monitorable Targets
To reduce gender differentials in under 5 child mortality rate from 8 points in 2014 to 4 points by 2017.Improve the nutritional status of girls by reducing the number of underweight and anemic girls under 5 years of the age (from NHFS data).Ensure universalisation of ICDS, girls attendance and equal care monitored, using joint Integrated Child Development Scheme (ICDS), National Health Mission (NHM) , Mother Child Protection Card (MCPC).Increase the girl enrolment in secondary education from 76% in 2013-2014 to 79% by 2017.Provide girls toilet in every school by 2017.Promote a protective environment for girl children through implementation of Protection of Children from Sexual Offences Act,2012(POCSO).Seminar on elected representatives/ grass root functionaries as community champions to mobilize communities to improve Child Sex Ratio (CSR) and promote girls to the education Target to improve the Sex Ratio at Birth (SRB) by at least 10 points.
Implementational Strategy
Strategy for Implementation of Beti Bachao Beti Padhao Programme in Haryana Community Awareness Extensive Publicity Change in Social customs to inculcate positive attitude towards daughters. Joint efforts by the three departments.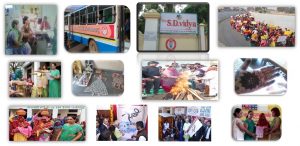 Stringent Legal Action
Control illegal MTPs/ Ultrasound/Quacks/Sex selection drugs. Conduct inspections and raids Send decoys Prepare intelligence on all neighbouring states also.
Awards
State of Haryana has been awarded Nari Shakti Puraskar 2015(Kannagi Devi Award) for work in progress on improving Child Sex Ratio and demonstrating improvement in Sex Ratio at Birth due to convergent and coordinated efforts by WCD, Health and Education Departments.
National award for Beti Padhao was awarded to District Yamunanagar in the year 2016 on Balika Divas on 24.01.2017.
Administrative Action
Haryana Kanya Kosh established for welfare of girl child.
Implemented Aapki Beti Hamari Beti Scheme:
Rs.21000 is invested with LIC of India in the name of first girl child born in SC and BPL Families and second girl child born under any category irrespective of caste , creed and number of sons. Now the benefit is extended upto 3rd girl child.benefit is extended upto 3rd girl child.
Focus on Sukanya Samridhi Yojana & opened 2.62 Lac Accounts in Post Offices and Banks Setting up of BBBP secretariat in the office of Hon'ble Chief Minister to monitor & review the programme
.Officers of secretariat & WCD Department visited villages having worst sex ratio in all districts to find out the ground reality and suggested remedial steps to district administration.
MOU signed with Federation of Indian Chambers of Commerce and Industry (FICCI) & Confederation of Indian Industry (CII) for fulfillment of the mission of BBBP.
Key Performance Indicators on the basis of monitor able targets of the programme prepared for CM dashboard.Regular B3P meetings at state HQ for effective implementation
Bringing positive change
Organized about 76167 Awareness Rallies at village , block & district level.12 mobile vans well equipped with audio-visual aids functional in all 20 BBBP districts.Kuan Pujan and Lohri celebration are the traditional ceremonies for celebrating birth of male child. Now these are also being celebrated on the birth of girl child.Organized Group rituals on Durga Astmi and Ahoi Astmi to make awareness about the importance of girl child
Departmental Initiatives
About 121122 Health checkup Camps organized. Gudda Guddi Boards displayed in 97.36% Gram Panchayats 10945 Sensitization and orientation programmes on Sexual Harassment at Workplace Act 2013, Menstrual Hygiene, gender Based Violence and related Acts etc organized at state ,district and block level.81 Mascots identified, who have established their name in Society by showing extra ordinary skills in the area of Social work, cultural activities, Sports, Academic etc.70883 signature campaigns organized. Oath taking ceremony to discourage female foeticide organized involving political leaders ,district administration, social activists , school children and community.Tree Plantation in the name of girl child organized.7207 film shows organized, (Female foeticide, POCSO, Gender Sensitization, Nutrition, Balance diet, Infant and young child feeding, Breast feeding, Domestic violence etc.)Display of logo of Beti Bachao Beti Padhao on Haryana Roadways buses, bus tickets and all the Government and some Private school buildings.Display of Boards at prominent places for awareness generation.Preparation of Directories of un-trained dai's.Preparation of Directories of 80957 pregnant ladies of 12 BBBP districts.Bulk push SMS sent to 80,000 pregnant women on Health and Nutrition issues Selfie with daughtersBalloon cycle rideMehendi competions have been organized for community awarness Sanjhi competitions have been organizedAppreciation certificates have been issued to honour the parents on the birth of girl child.E-Riksha programme for women in Karnal (no. of E-Riksha-6) & Rohtak (no. of E-Riksha- 25)Installation of sanitary napkin vending machines & incinerators in washrooms of girls' schools and colleges under Project Sakhi in district Karnal (1 Nari Niketan, 40 Sen. Secondary Schools & 2 Colleges)Organized Orientation programmes for newly elected Panch and Sarpanches. Celebrated Aapki Beti Hamari Beti utsav in which 498583 girls felicitated and provided baby care kit comprising of Towel, cap, feeding bowl with spoon, balloon, whistle, Biscuit and 1 kg Panjiri.Mahila Police Thana opened in 21 district Hqr where all the staff are women. Also Protection-cum- Prohibition officer under Domestic Violence Act, 2005 and Child Marriage Act, 2006 alongwith subordinate staff are sitting in the same complex.Scheme for Special Mahila Police Volunteers on pilot basis in two districts having lowest sex ratio and high incidence of crime is under consideration of the Govt. with the aim to improve safety and security of women.